11.1 Faith is the assured expectation of what is hoped for, the evident demonstration of realities that are not seen. 2 For by means of it, the men of ancient times had witness borne to them. 3 By faith we perceive that the systems of things were put in order by God's word, so that what is seen has come into existence from things that are not visible.4 By faith Abel offered God a sacrifice of greater worth than that of Cain, and through that faith he received the witness that he was righteous, for God approved his gifts, and although he died, he still speaks through his faith.
5 By faith Eʹnoch was transferred so as not to see death, and he was nowhere to be found because God had transferred him; for before he was transferred he received the witness that he had pleased God well. 6 Moreover, without faith it is impossible to please God well, for whoever approaches God must believe that he is and that he becomes the rewarder of those earnestly seeking him.
7 By faith Noah, after receiving divine warning of things not yet seen, showed godly fear and constructed an ark for the saving of his household; and through this faith he condemned the world, and he became an heir of the righteousness that results from faith. 8 By faith Abraham, when he was called, obeyed by going out to a place he was to receive as an inheritance; he went out, although not knowing where he was going. 9 By faith he lived as a foreigner in the land of the promise as in a foreign land, living in tents with Isaac and Jacob, the heirs with him of the very same promise. 10 For he was awaiting the city having real foundations, whose designer and builder is God.
11 By faith also Sarah received power to conceive offspring, even when she was past the age, since she considered Him faithful who made the promise. 12 For this reason, from one man who was as good as dead, there were born children, as many as the stars of heaven in number and as innumerable as the sands by the seaside. 13 In faith all of these died, although they did not receive the fulfillment of the promises; but they saw them from a distance and welcomed them and publicly declared that they were strangers and temporary residents in the land. 14 For those who speak in such a way make it evident that they are earnestly seeking a place of their own. 15 And yet, if they had kept remembering the place from which they had departed, they would have had opportunity to return. 16 But now they are reaching out for a better place, that is, one belonging to heaven. Therefore, God is not ashamed of them, to be called on as their God, for he has prepared a city for them. 17 By faith Abraham, when he was tested, as good as offered up Isaac—the man who had gladly received the promises attempted to offer up his only-begotten son 18 although it had been said to him: "What will be called your offspring will be through Isaac." 19 But he reasoned that God was able to raise him up even from the dead, and he did receive him from there in an illustrative way.20 By faith also Isaac blessed Jacob and Eʹsau concerning things to come.21 By faith Jacob, when about to die, blessed each of the sons of Joseph and worshipped while leaning on the top of his staff.22 By faith Joseph, nearing his end, spoke of the exodus of the sons of Israel, and he gave instructions concerning his bones.23 By faith Moses was hid by his parents for three months after his birth, because they saw that the young child was beautiful and they did not fear the order of the king. 24 By faith Moses, when grown up, refused to be called the son of Pharʹaoh's daughter, 25 choosing to be mistreated with the people of God rather than to have the temporary enjoyment of sin, 26 because he considered the reproach of the Christ to be riches greater than the treasures of Egypt, for he looked intently toward the payment of the reward. 27 By faith he left Egypt, but not fearing the anger of the king, for he continued steadfast as seeing the One who is invisible. 28 By faith he observed the Passover and the splashing of the blood, so that the destroyer might not harm their firstborn.29 By faith they passed through the Red Sea as on dry land, but when the Egyptians attempted it, they were swallowed up.30 By faith the walls of Jerʹi·cho fell down after the people had marched around them for seven days. 31 By faith Raʹhab the prostitute did not perish with those who acted disobediently, because she received the spies in a peaceable way.32 And what more will I say? For time will fail me if I go on to relate about Gidʹe·on, Baʹrak, Samson, Jephʹthah, David, as well as Samuel and the other prophets. 33 Through faith they defeated kingdoms, brought about righteousness, obtained promises, stopped the mouths of lions, 34 quenched the force of fire, escaped the edge of the sword, from a weak state were made powerful, became mighty in war, routed invading armies. 35 Women received their dead by resurrection, but other men were tortured because they would not accept release by some ransom, in order that they might attain a better resurrection. 36 Yes, others received their trial by mockings and scourgings, indeed, more than that, by chains and prisons. 37 They were stoned, they were tried, they were sawn in two, they were slaughtered by the sword, they went about in sheepskins, in goatskins, while they were in need, in tribulation, mistreated; 38 and the world was not worthy of them. They wandered about in deserts and mountains and caves and dens of the earth.
39 And yet all of these, although they received a favorable witness because of their faith, did not obtain the fulfillment of the promise, 40 because God had foreseen something better for us, so that they might not be made perfect apart from us.
As the Sixth Day Ends – What Will Occur?
God's Kingdom Established In Heaven.
God's Kingdom will remove all human governments: Daniel 2:43,44   "Just as you saw iron mixed with soft clay, they will be mixed with the people; but they will not stick together, one to the other, just as iron does not mix with clay.  "In the days of those kings the God of heaven will set up a kingdom that will never be destroyed. And this kingdom will not be passed on to any other people. It will crush and put an end to all these kingdoms, and it alone will stand forever""
What is God's Kingdom? Matthew 6:10 "Let your Kingdom come. Let your will take place, as in heaven, also on earth".  A Real Government where the Authorities do not die. There are no borders that hinder their authority. They do not accept bribes or act selfishly. They will adhere to Divine Law, everyone on Earth will be treated the same way, for God is not partial. Acts 10:34
1 Thessalonians 5:2,3 For you yourselves know very well that Jehovah's day is coming exactly as a thief in the night. 3 Whenever it is that they are saying, "Peace and security!" then sudden destruction is to be instantly on them, just like birth pains on a pregnant woman, and they will by no means escape.
Millions living today may Never die at all.   21:3-5  God has Itemized the Events that will End the Sixth Day. In the period ending the Sixth Day, those alive at that time will be Judged, those who know God and are trying to live their life according to His Principles will be allowed to continue living as brought out at Revelation 7:14.
Daniel 12:1 explains it this way: 12 "During that time Miʹcha·el (Jesus) will stand up, the great prince who is standing in behalf of your people. And there will occur a time of distress such as has not occurred since there came to be a nation until that time. And during that time your people will escape, everyone who is found written down in the book.
The Seventh Day – What Will Occur?
A day in Heaven is as 1000 years on Earth. The Seventh Day, also known as Judgment Day and the Last Day, is the period starting some 6000 years after Adams act of disobedience and lasting 1000 years.
Jehovah foretells what will occur as the Sixth Day Ends at Ezekiel 38:14-23
Jehovah foretells what will occur as the Seventh Day Begins at Ezekiel 39:11-19
The birds of heaven will eat those who died at Armageddon Ezekiel 39:17-19
Survivors Will Begin Cleansing the Earth after the Birds, they will search out the bones of the fallen.
They will gather the spoil left by the dead. The Land will be allocated to the survivors.
They Will Build and Plant on their own land : Isaiah 65:21 They will build houses and live in them, And they will plant vineyards and eat their fruits.  They will not build for someone else to inhabit,Nor will they plant for others to eat.For the days of my people will be like the days of a tree, And the work of their hands my chosen ones will enjoy to the full.23  They will not toil for nothing,Nor will they bear children for distress,Because they are the offspring made up of those blessed by Jehovah, And their descendants with them
Micah 4:3,4  "He will render judgment among many peoples And set matters straight respecting mighty nations far away.They will beat their swords into plowshares And their spears into pruning shears.Nation will not lift up sword against nation,Nor will they learn war anymore. 4  They will sit, each one under his vine and under his fig tree, And no one will make them afraid, For the mouth of Jehovah of armies has spoken."
Acts 3:21 "Heaven must hold this one within itself until the times of restoration (7th Day) of all things of which God spoke through the mouth of his holy prophets of old." During the restoration, Jesus will resurrect people from the dead, Just As He Did During His Previous Time Here.
Life Will Be So Good They Will Not Recall Our Days By Choice : Isaiah 65:17 "For look! I am creating new heavens and a new earth; And the former things will not be called to mind, Nor will they come up into the heart"
Resurrection to Earth is the Hope of All the "Other Sheep"
How Does the Bible Comfort the Mourning?  By assuring us that the dead are safe, no one can harm them anymore, their suffering has ended. Yet No Lasting Harm Has Been Done. How Can That Be? John 5:25-29 describes in past tense their future actions.
Acts 24:15 And I have hope toward God, which hope these men also look forward to, that there is going to be a resurrection of both the righteous and the unrighteous.
John 5:25  "Most truly I say to you, the hour is coming, and it is now, when the dead will hear the voice of the Son of God, and those who have paid attention will live. 26  For just as the Father has life in himself, so he has granted also to the Son to have life in himself. 27  And he has given him authority to do judging, because he is the Son of man. 28  Do not be amazed at this, for the hour is coming in which all those in the memorial tombs will hear his voice 29  and come out, those who did good things to a resurrection of life, and those who practiced vile things to a resurrection of judgment.
Daniel 12:2,3 And many of those asleep in the dust of the earth will wake up, some to everlasting life and others to reproach and to everlasting contempt.3  "And those having insight will shine as brightly as the expanse of heaven, and those bringing the many to righteousness like the stars, forever and ever.
Lazarus Death and Resurrection
What Does it Teach Us?
John 11:17 – 44 Read or Listen to the Entire Account
17 When Jesus arrived, he found that Lazʹa·rus had already been in the tomb for four days. 18 Now Bethʹa·ny was near Jerusalem, about two miles away. 19 And many of the Jews had come to Martha and Mary to console them concerning their brother. 20 When Martha heard that Jesus was coming, she went to meet him; but Mary kept sitting at home. 21 Martha then said to Jesus: "Lord, if you had been here, my brother would not have died. 22 Yet even now I know that whatever you ask God for, God will give you." 23 Jesus said to her: "Your brother will rise." 24 Martha said to him: "I know he will rise in the resurrection on the last day." 25 Jesus said to her: "I am the resurrection and the life. The one who exercises faith in me, even though he dies, will come to life; 26 and everyone who is living and exercises faith in me will never die at all. Do you believe this?" 27 She said to him: "Yes, Lord, I have believed that you are the Christ, the Son of God, the one coming into the world." 28 When she had said this, she went off and called Mary her sister, saying privately: "The Teacher is here and is calling you." 29 On hearing this, she got up quickly and went to him.
30 Jesus had not yet come into the village, but he was still in the place where Martha had met him. 31 When the Jews who were with Mary in the house consoling her saw her get up quickly and go out, they followed her, supposing that she was going to the tomb to weep there. 32 When Mary arrived where Jesus was and caught sight of him, she fell at his feet and said to him: "Lord, if you had been here, my brother would not have died." 33 When Jesus saw her weeping and the Jews who had come with her weeping, he groaned within himself and became troubled. 34 He said: "Where have you laid him?" They said to him: "Lord, come and see." 35 Jesus gave way to tears. 36 At that the Jews began to say: "See, what affection he had for him!" 37 But some of them said: "Could not this man who opened the eyes of the blind man prevent this one from dying?"
38 Then Jesus, after groaning again within himself, came to the tomb. It was, in fact, a cave, and a stone was lying against it. 39 Jesus said: "Take the stone away." Martha, the sister of the deceased, said to him: "Lord, by now he must smell, for it has been four days." 40 Jesus said to her: "Did I not tell you that if you would believe you would see the glory of God?" 41 So they took the stone away. Then Jesus raised his eyes heavenward and said: "Father, I thank you that you have heard me. 42 True, I knew that you always hear me; but I spoke on account of the crowd standing around, so that they may believe that you sent me." 43 When he had said these things, he cried out with a loud voice: "Lazʹa·rus, come out!" 44 The man who had been dead came out with his feet and hands bound with wrappings, and his face was wrapped with a cloth. Jesus said to them: "Free him and let him go."
After Lazarus' Death, four days later Jesus arrived .Martha (Lazarus' sister) said to him :(Jesus) "I know he will rise in the resurrection on the last day."
Martha had been taught that the dead would be resurrected in the flesh here on the Last Day. Jesus' resurrection of Lazarus that day was a guarantee of that future event. What is the Last Day?
The Last Day is the next 1000 year period when most of the dead in God's Almighty Memory will be brought back to life here on Earth in an orderly way. The 7th Day in God's Eyes will be the Last Day of Sin and Death.
All the resurrected dead will be given opportunity to learn of Jesus Ransom and accept God's requirements for Life, for the unborn and young children, this could take many years.
Imagine A beautiful Global Paradise, Peace with Animals, Plenty of Food to Eat
The Last Day will be a time of increasing Peace, even for the animals. Isa.65:25 The wolf and the lamb will feed together,The lion will eat straw just like the bull, And the serpent's food will be dust.They will do no harm nor cause any ruin in all my holy mountain," says Jehovah.
The Word of God is Alive
Hebrews 4:12 For the word of God is alive and exerts power and is sharper than any two-edged sword and pierces even to the dividing of soul and spirit, and of joints from the marrow, and is able to discern thoughts and intentions of the heart.
The Alternate Reality Exist, We experience everyday.The Bible documents God's step by step progress toward fulfilling His purpose for the Earth. Every person makes a choice for the Status Quo or for Perfect Life in Paradise on Earth under God's Kingdom rule. Revelation 21:3-5
Jehovah God states through His word that Death came on men when Adam disobeyed God's command. So what would of happened if Adam did not disobey? Years after this took place, God wrote us a letter to explain what took place & how He would restore those having faith to Edenic life
This He Assures us n Revelation 21: 4 "And HE will wipe out EVERY TEAR from their eyes, and DEATH will be no more, neither will MOURNING nor OUTCRY nor PAIN be anymore. The FORMER things have passed away."He is not speaking about angels crying & dying.He's Foretelling the Next Days
God explains to us that a Day for Him is a 1000 years to us. It has been some 6000 yrs since Adam disobeyed.The Next 1000 yrs,the 7th day,will begin at anytime when the nations turn on religions worldwide.God who cannot lie or fail will cause it as stated at Rev.17:16-18.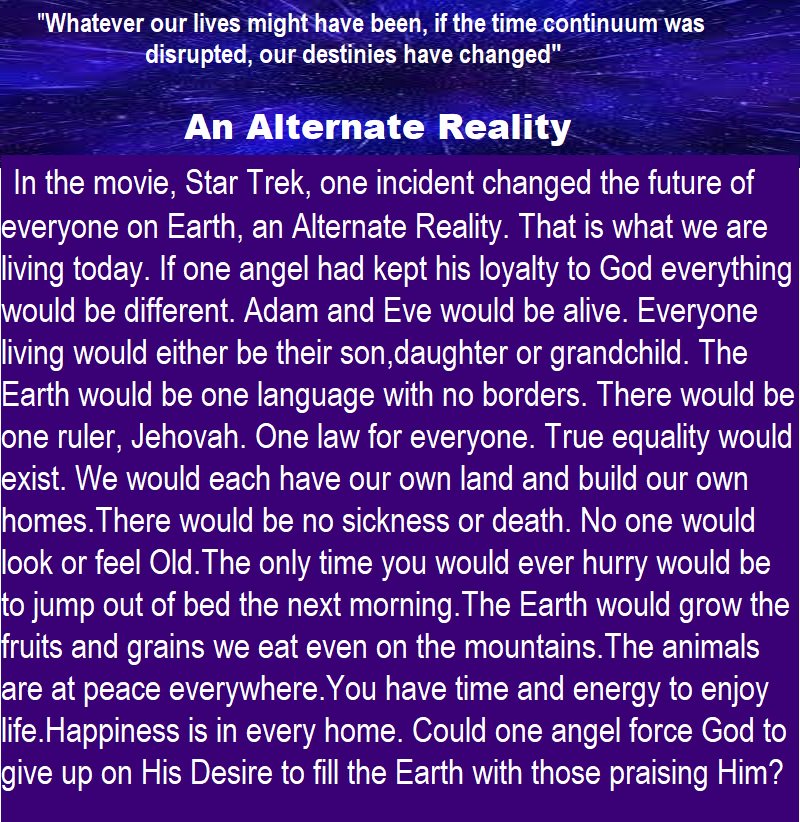 True Equality, Peace, Security, and Peace When?
What Could Dr.King See From the Mountain Top? The Bible outlines How God will use His Kingdom to remove the evil brought about by the 1st man Adam.While Jesus was on Earth he taught people to pray for God's Government to rule the Earth. He has set a Great Day afterwards we will see it
True Equality will Only Occur After Jesus Asserts his authority as King of God's Kingdom over the Earth. There will be One Authority and One Set of Laws for the Entire Earth. Matthew 22:37-39 He said to him: "'You must love Jehovah your God with your whole heart and with your whole soul and with your whole mind.' 38 This is the greatest and first commandment. 39 The second, like it, is this: 'You must love your neighbor as yourself.'
  True Justice will occur then because the Kings & Priests with him will have no partiality.Using God's spirit they will be able to read the heart motives and thoughts of both sides. Acts 10:34 At this Peter began to speak, and he said: "Now I truly understand that God is not partial
True Peace will occur then because all fear of death will be removed. Anyone that wants to revert to the ways of today will be removed.Psalms 37:10,11
True Security will occur because everyone will learn that Trust in God's Kingdom will never Be Disappointed 
1 Peter 3:14 But even if you should suffer for the sake of righteousness, you are happy. However, do not fear what they fear, nor be disturbed.
On that very night the angel of Jehovah went out and struck down 185,000 men in the camp of the As·syrʹi·ans.+ When people rose up early in the morning, they saw all the dead bodies. 2 Kings 19:35
Jesus kneels before the Throne of God, commissioned to remove Earths Kings and Rule the Earth.
Would You Like To Know the Bible's Truth?
*
In the Book of Daniel, chapter 2, Almighty God had Daniel to write about a dream that Jehovah gave to the ruler in Babylon. The dream foretold the world powers that would rule over gods people and their remnants today. This acts as a time-stamp as to where we are in the stream of time in relation to God's out working of the Sacred Secret of God. As of today, 9/5/2016, we have reached Daniel 2:43. There may be a further escalation of political instability at anytime now and I hope to see Daniel 2:44 this year
Jesus name means "Jehovah is salvation"
How Wickedness is Done Away With
Pedophilia will done away with in the simplest of ways. If they do not learn to hate these wicked acts and resist every evil inclination to act them out, you will look for them one day and they will no longer be there or anywhere.
Abortion will done away with in the simplest of ways. If a person does not respect that every life is precious to God, you will look for them one day and they will no longer be there or anywhere.
Murder will done away with in the simplest of ways. If a person does not respect that every life is precious to God, you will look for them one day and they will no longer be there or anywhere.
*
Angel Directed Worldwide Preaching Work
An Angel Guides Jehovah's Witnesses in they're preaching of the Good News of God's Kingdom in all the inhabited Earth. Satan and his demons watch ready to persecute anyone who is favorable to the message. You know who is preaching, Jehovah's Witnesses, but who is it Satan uses to persecute and squash the message? Local churches and the head ministers are who are actually fighting against God. Then family members of the one's who see the truth in the message will abuse the meek one's,even throwing wives and children out of the house.
*
We are Hard Pressed on every side, but not crushed;
perplexed, but not in despair;
persecuted,but not abandoned;
struck down,but not destroyed. 2 Cor.4:8,9
 Jesus is the Gift that was given by God,
should we not praise the Giver instead of the Gift
*
*
God made Angels in Heaven to live in Heaven. God made Man on Earth to live on Earth. Can it be that simple? #Bible
*
People believe they are going to Heaven Because Jesus told His Apostles and Disciples that they would rule with Him as Kings and Priests in Heaven in the Kingdom of God. There was only 144,001 Thrones that began to be filled after Jesus Death, He was the First Fruit. That Kingdom is a real Government. The 144,001 Kings will enforce Jehovah's Principles on Earth after His Great Day or Armageddon.
On the Next Day Here on Earth they will be there ready to take charge, God Knows …What To Do, He's not inexperienced like men. He has prepared these men and women to rule on Day 1 of 360,000. There will be no police, no sheriff, no jails or prisons. Jesus and those with Him will act as Priest's by showing those that may be violating a Principle of Love for God or Love for Neighbor ways to bring their actions in line with what is required. If the resist they just won't be there anymore. Psalms 37:10,11 Revelation 5:10, 7:4,14
*
Prior to Jesus, no human had ever been resurrected to Heaven. That means all the people who died before Jesus like Moses, King Solomon, Bathsheba, Abraham, Noah and Many more are awaiting a resurrection to Earth at Judgment Day. That is their Only Hope, Eternal Life in Paradise on Earth
*
Over 8 Billion are too busy to stop what they are doing and engage in a Bible Discussion.
Many believe they are going to Heaven, no matter what you say.
Pharaoh let Jehovah destroy Egypt and did not acknowledge Him until his death.
Mtt.24:39 states "and they took no note until the Flood came and swept them all away"  Is That You?
*
Why do some worship contrary to Jehovah's command?
Why should I believe in God? I was walking through the desert when saw a Beautiful House and a yard with all kinds of animals. There was a pond with fish and fruit trees and plants of every kind good for food. This was the only place in a vast desert that these things exist. How did all these things evolve from the ground? How can a thousand different animals with a different DNA stem from 2 cells and 1 DNA? How can a food chain that has been in progress for over a million years start from one species? Why are Humans different from the animals? Humans build on previous knowledge and have a consciousness that animals don't have. How Could we Evolve from Them? Does not intelligent design come from an intelligent designer?
Your Choice 2016. The Greatest Fraud Ever Committed Started in Babel and Lives Today in Babylon the Great . This Means that 99 percent of Religion is Fraudulent. Soon the World Will Find that they were Duped.
"But reports out of the east* and out of the north will disturb him, and he will go out in a great rage to annihilate and to devote many to destruction
When All leave you Jehovah stays with you
Jehovah the Name of Almighty God Psalms 83:18
Also, there will be signs in the sun and moon and stars,and on the earth anguish of nations not knowing the way out because of the roaring of the sea and its agitation
The Origins of Life. We have a Spiritual Need the animals don't. Matthew 5:3 "Happy are those conscious of their spiritual need, since the Kingdom of the heavens belongs to them." We were created in God's Image, that is why we have a Spiritual Need.
Some Religions teach that the soul is Immortal, which implies that people never die.However,if that were true,why would Jesus die for us?Why would hr give his life for humans to have everlasting life if they are already Immortal?The soul that is sinning…. it itself will die.Ezekiel 18:4
That "I Told You So" Moment is Near when the Sovereign Lord Jehovah Rocks the Earth and You are an Atheist